FAQs | Female Genital Schistosomiasis
Workshop on Female Genital Schistosomiasis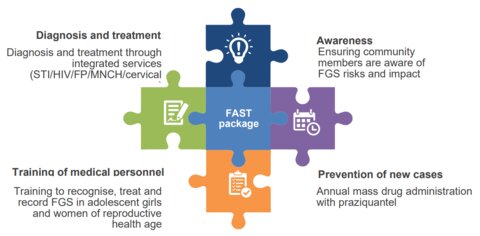 The workshop on Female Genital Schistosomiasis (FGS) is part of the FGS Accelerating Scale Together (FAST) Project. The training was conducted online in May 2021 as part of the FAST Project, led by Bridges to Development in partnership with the Geneva Learning Foundation. More than 100 health care professionals in Sub Saharan Africa participated. They were trained on improving the Prevention, Diagnosis, and Treatment of FGS. The questions presented in this material emerged from the participants of the workshop. The answers provided are from a team of Subject Matter Experts that also supported the training and the development of this material.
Frequently Asked Questions & Answers on Female Genital Schistosomiasis
The FGS Accelerated Scale Together (FAST) project is dedicated to a holistic approach that combines diagnosis and treatment, training, prevention through mass drug administration and community awareness and empowerment. The FAST Package combines a diverse partnership of global and national partners. The FAST package is supported by Grand Challenges Canada Grand Challenges Canada is funded by the Government of Canada and is dedicated to supporting Bold Ideas with Big Impact®. The matched funding for the FAST package is from NTD Support Center, Merck Global Health Institute, WHO Expanded Special Project for the Elimination of Neglected Tropical Diseases and Schistosomiasis Control Initiative Foundation.
For more information, please visit the FAST Package website.
Female Genital Schistosomiasis