The Avert Boost Web platform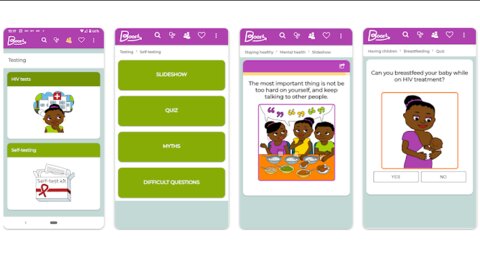 Boost is a digital job aide for community health workers and peer educators. It is a mobile-first set of communication tools that enhances their knowledge, skills, and confidence to share accurate and actionable HIV, SRH (Sexual and Reproductive Health), and other primary health information with their communities.
Boost was co-created with over 100 community health workers in Southern Africa to support their specific knowledge needs and ways of working.
Boost was designed and developed in collaboration with more than 100 community health workers from Malawi, Zambia and Zimbabwe. The Boost brand provides easy, up-to-date, visual, and interactive materials on HIV, sexual health, female genital schistosomiasis (FGS), COVID-19, and other primary health information, available across a range of platforms. It supports community health workers' ongoing learning and equips them with fun, interactive tools that they can use and share with their clients and peers.
Boost web app is data light, accessible on low-bandwidth and is regularly updated with the latest information.
Alternatively Boost is free to download for offline use via the Android native app & available to individuals and organisations.
Female Genital Schistosomiasis