In Memoriam | Lazarus Juziwelo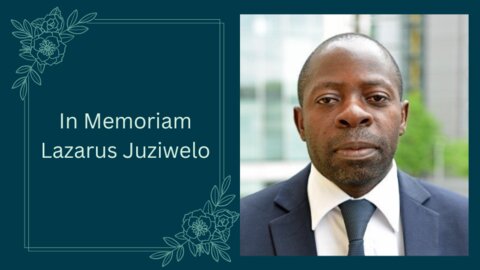 We are deeply saddened and shocked to learn of the passing of our colleague and friend, Lazarus Juziwelo, National Programme Manager for the Schistosomiasis and Soil-transmitted Helminth Control Programme at the Ministry Of Health Malawi and Global Schistosomiasis Alliance Ambassador.
Lazarus Tito Aliel Juziwelo led the schistosomiasis and soil-transmitted helminthiasis control programme in Malawi. He was a dedicated and passionate public health manager, working tirelessly to improve the health of the people of Malawi.
His work in public health spanned 27 years, and included work on District Epidemic Management, Nutrition, Maternal and Child Health, Expanded Program on Immunization (EPI) and since 2013, Neglected Tropical Diseases. He was involved in all NTDs control program activities in the fight to manage the elimination of 8 NTDs in Malawi.
Lazarus became a GSA Ambassador in 2020 at the start of the programme, and has been a key contributor, discussing strategies and highlighting priority challenges for schistosomiasis elimination. Lazarus supported the GSA in several ways including working on a GSA-COR NTD meeting looking at "Elimination of Schistosomiasis as a Public Health Problem – Experiences on reaching the goal and what to do next from endemic countries" and a GSA-ISTND webinar "Schistosomiasis in Malawi: future control isn't quite like it used to be"
As the National Programme Manager for the Schistosomiasis and Soil-transmitted Helminth Control Programme since 2017, Lazarus was responsible for morbidity control of schistosomiasis and STH through Preventive Chemotherapy using Mass Drug Administration, Behaviour Change and Communication, and WASH. These reduced the schistosomiasis prevalence from over 60% to a range of 1 to 30% in Malawi. It was his aspiration to see no new case of schistosomiasis in Malawi by 2030.
Lazarus's sudden passing is a great personal and scientific loss to the schistosomiasis community. His expertise, dedication and friendship will be greatly missed. We offer our condolences to his family, friends and colleagues across the globe.
"Lazarus was a passionate advocate for the health and welfare of his fellow citizens. He believed that everyone should have access to treatments and health services, that schistosomiasis should be and could be eliminated as a public health problem in Malawi and that by working together we could achieve this for the people of Malawi. We will miss him greatly and we will continue the work to achieve this vital goal. "

Anouk Gouvras

Director of Communications and Programmes

GSA