RSTMH blog: Schistosomiasis – collaborate to eliminate
Dr Wendy Harrison, RSTMH Vice-President and CEO of the SCI Foundation, highlights how schistosomiasis is a disease of profound medical and veterinary importance.
Schistosomiasis
Schistosomiasis is a Neglected Tropical Disease (NTD) of profound medical and veterinary importance across many parts of the world, with the greatest human burden within sub-Saharan Africa. It is the most prevalent waterborne disease globally with over 240 million people at risk of infection. An estimated 200,000 people die from the disease each year.
Infection is acquired when people come into contact with fresh water infested with the larval forms (cercariae) of parasitic blood flukes, known as schistosomes. The microscopic adult worms develop within blood vessels and the eggs they lay can become trapped in the body's tissues. Symptoms of schistosomiasis are caused by the immune reaction to the worms' eggs that can cause significant organ damage.
Schistosoma species are well adapted to their host species with three species primarily infecting humans. Recent studies from West Africa have revealed evidence of viable hybridization between human and animal schistosome species. This may have an impact on transmission potential of these parasites and control measures required in the future.
The most common human species cause intestinal and urogenital lesions. Symptoms of intestinal schistosomiasis include abdominal pain, diarrhoea and blood in the stool. Liver enlargement and hypertension of the abdominal blood vessels are common in advanced cases. The classic sign of urogenital schistosomiasis is haematuria (blood in urine). Fibrosis of the bladder and ureter and kidney damage are sometimes diagnosed in advanced cases. Bladder cancer is another possible complication in the later stages.
Urogenital schistosomiasis may present with genital lesions and may also have other long-term irreversible consequences, including infertility. Recent studies have indicated that schistosomiasis also increases the risk of HIV infection in women by 3-4-fold. In children, schistosomiasis can cause anaemia, stunting, reduced school attendance and impairs their cognitive development.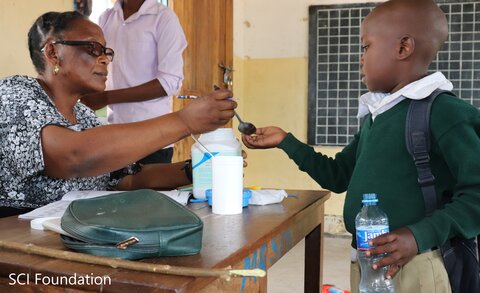 Schistosomiasis treatment
Schistosomiasis species can be effectively treated using Praziquantel (PZQ), a safe and effective drug. Currently, 250 million tablets are donated by Merck KgaA free of charge to endemic country governments through a WHO led donation programme. Recent studies by Nobel prize Laureate Michael Kremer has shown individuals who received deworming treatment as children experience substantial increases in adult consumer spending, hourly earnings, non-agricultural employment, and urban residence. This underlines the considerable impact of these control programmes. The same study estimates a return of investment in deworming programmes of 37%. National control programmes against schistosomiasis are often combined with other NTDs control programmes that target similar populations further increasing cost effectiveness.
The focality of schistosomiasis infections often around infected water bodies, means that identification of the geographical regions that would benefit most for treatment is challenging. Work is ongoing using geospatial mapping techniques to develop detailed cost-effective strategies that will allow fine scale effective targeting of treatment to communities at risk.
Very recently PZQ has been donated by Bayer for the treatment of the cestode Taenia solium -the leading cause of acquired epilepsy globally. Co-morbidity of Taenia solium and schistosomiasis is seen in many underserved communities and therefore there is an opportunity for PZQ distribution by national programmes to have multiple health and economic impacts.
Eliminating schistosomiasis
In 2012, the World Health Assembly adopted resolution WHA65.21 on the elimination of schistosomiasis, calling on all endemic countries to commit to progressive targets to intensify control interventions with the ultimate aim of interrupting the transmission of schistosomiasis.
The implementation of this resolution requires an adaptive and comprehensive approach. Mathematical modelling shows that to reach elimination there is a need to expand the target population for PZQ treatment to reach at risk adults as well as school aged children who historically have been the focus of mass distribution programmes. In addition, a consortium of partners is developing a pediatric formulation of praziquantel to ensure that pre-school age children are also reached.
To reach elimination it is also clear that there is a need to ensure at risk communities have access to high quality water and sanitation. Understanding the zoonotic potential of schistosome species is also essential to develop a stronger collaboration with the veterinary public health sector.
The development of the WHO NTD 2030 Road Map to be launched later this year, has provided a clear guidance for the STH and NTD community for this important paradigm shifts to a more comprehensive approach to disease control. It articulates the need for embedding disease control programmes into broader development agenda ensuring that behaviour change, environmental prevention and morbidity management and inequality are all addressed in partnership with relevant stakeholders.
The road map's emphasis on aligning with government priorities and ambition is also of particular importance for long term control programmes that will need sustained commitment over several decades.
The Global Schistosomiasis Alliance, a group of cross sector stakeholders are working closely with WHO and endemic country ministries to achieve this ambitious goal to bring an end to the suffering caused by schistosomiasis.