WHO comic Bambo has Bilharzia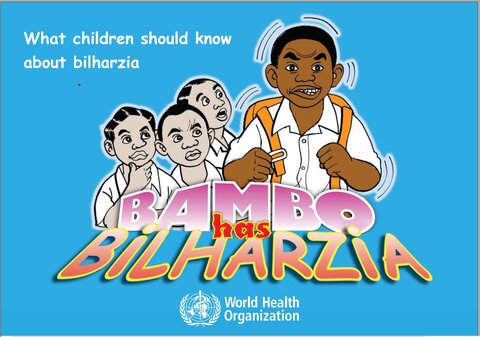 WHO comic book to teach children about Schistosomiasis aka Bilharzia
"What children should know about bilharzia:
Bambo and his friends enjoy swimming.
Little do they know about the risks they take every time they swim in a dam near their school, until Bambo's health deteriorates.
This results in his inability to study.
Like Bambo, there are millions of children who should be aware of the risks posed by poor sanitation and unhealthy habits."
Languages:
Bambo has bilharzia. What children should know about bilharzia
Bambo a la bilharziose : ce que les enfants doivent savoir sur la bilharziose
Bambo tem esquistossomose: o que as crianças devem saber sobre a esquistossomose
Bambo ana Kichocho: Nini watoto wanapaswa kujua kuhusu kichocho?
عن البلهارسيامعلومات ضرورية للأطفال
Behaviour change WHO