GSA - NNN Behaviour Change Workshop
Behavior Change: Practical education approaches, promotion strategies, and change interventions for improving the effectiveness of NTDs Programmes
The GSA led Behaviour Change Workshop started with a detailed look at the practical application of a Behaviour Change theory model: the socio-ecological model which was presented by Anouk Gouvras on behalf of Bobbie Person. This was followed by 4 break-out group activities looking at particular case studies. The break-out groups were asked to identify 3 challenges and 3 solutions relating to their case study.
1. Schistosomiasis Case Study: Rebranding the worm - Anouk Gouvras GSA
This group looked at challenges linked to a poor perception of the health risk of schistosomiasis. The three main challenges identified and discussed were issues with MDA compliance, difficulties with asymptomatic and symptomatic diseases and disease with low prevalence and the potential challenges when demand is linked to cost-value relationship.
Potential problem-solving techniques and solutions included:
Know your setting and community – what are the perceptions? .
Create the demand (e.g. Use images and materials to link disease-transmission-treatment).
Identify and engage community in design and solutions, including influencers such as religious leaders and also group influencers e.g. Women's group
2. Sustainability of WASH - Yirga Gebregziabher NALA Foundation
This breakout group looked at how to use BC to make WASH interventions sustainable. The group discussed challenges relating to the impact of WASH hardware/infrastructure avialability, accessability and maintance on BC and the issue of creating demand in the community. Potential solutions discussed included using role model development, peer work and community involvement from beginning of project/programme & in the evaluation of the project/programme.
3. Integration of NTD Prevention BC - Michal Bruck NALA Foundation
The group looked at the benefits and challenges of integrating a BC and health education package for three NTDs affecting a community. Problem-solving soultions included
Advocacy
Long-term planning
Partnering with other organizations
Implementing small scale projects
4. Trachoma Elimination in Australia - Sarity Dodson Fred Hollows Foundation
The breakout group discussed Trachoma elimination efforts in dispersed and remote locations in Australia where communication issues, lack of access to safe water, diffciulties in maintenance of facilities and open defaecation practices pose particular challenges. Potential solutions discussed included school based intervention and helath programmes and involving stakeholders in the design, implementation and evaluation of the programme.
Key Lessons Learnt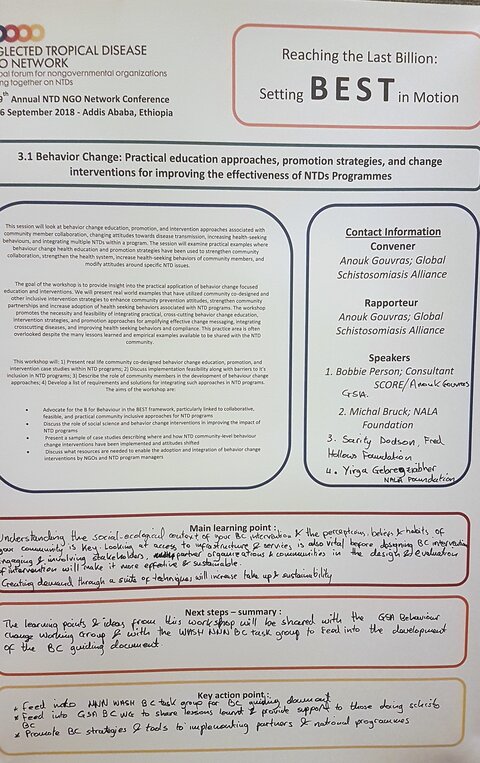 The Main Learning Points identified by the BCHE workshop were:
Understanding the social-ecological context of you BC intervention & the perceptions, believes & habitats of your community is key.
Looking at access to infrastructure & services available is also vital before designing BC intervention. Engaging & involving stakeholders, partner organization & communities in the design & evaluation of intervention will make it more effective & sustainable.
Creating demand through a suite of techniques will increase take up & sustainability.
Summary of the next steps were to share the learning points & ideas from this workshop with the GSA BCHE WG & with the WASH NNN BC task group to feed into the development of the BC guiding document.
Key Action Points:
Feed into NNN WASH BC task group for BC guiding document
Feed into GSA BC WG to share lessons learnt & provide support to those doing schisto BC
Promote BC strategies & tools to implementing partners and national programmes.
Behaviour change GSA