Cameroon 2003-2019 progress report towards elimination of Schistosomiasis and STH in Cameroon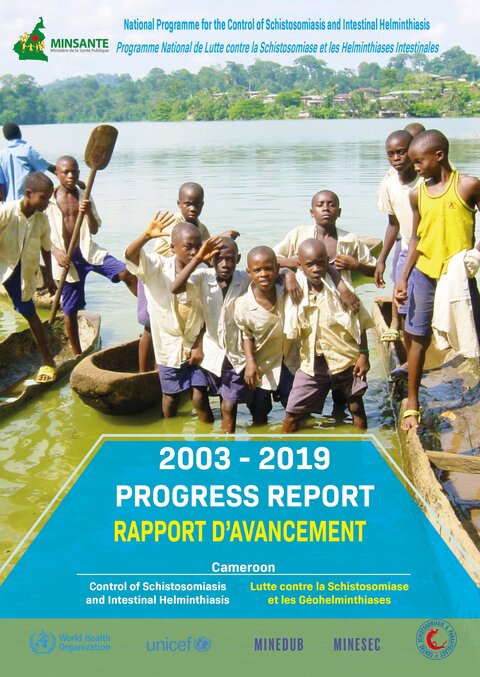 The NTD programme in Cameroun have released their 2003-2019 progress report summarizing key achievements towards elimination of Schistosomiasis and STH in Cameroon.
Objective of the progress report:
• Summarize the annual reports for the concerned period.
• Evaluate the level of achievement of the pre-set objectives.
• Identify difficulties encountered during the concerned period in the implementation of developed action plans.
• Prepare the way forward
The report summarizes and illustrate the major accomplishments of the PNLSHI between 2003 and 2019. They include:
1) The production of strategic documents.
2) Training and capacity building.
3) Coordinated partnership, advocacy and fundraising.
4) Innovative Government-Municipalities partnership.
5) Communication and social mobilization.
6) Official launching ceremonies of national deworming campaigns.
7) Local deworming campaigns.
8) Complementary public health interventions.
9) Increased treatments.
10) Operational research and impact studies.
11) Evaluation meetings.
12) Statutory meetings.
13) International conferences.
14) Transmission factors.
15) Issues, challenges and lessons.
16) Conclusions and recommendations.
17) Annex.

Ce rapport d'avancement constitue un bon moyen d'amélioration de la lisibilité des activités menées par le PNLSHI sur la période allant de 2003 à 2019.
Ses principaux objectifs sont :
• Faire une synthèse des rapports annuels de la période concernée.
• Evaluer le niveau de réalisation des objectifs préfixés.
• Identifier les contraintes rencontrées au cours de la période concernée dans la mise en œuvre des plans d'action annuels.
• Elaborer les perspectives d'avenir
Les réalisations phares du PNLSHI entre 2003 et 2019 sont résumées et illustrées dans les pages du rapport. Elles portent sur :
1) La production de documents stratégiques.
2) La formation et le renforcement des capacités.
3) Le partenariat coordonné, le plaidoyer et la recherche de financement.
4) Le partenariat innovant Gouvernement - Communes.
5) La communication et la mobilisation sociale.
6) Les cérémonies de lancement officiel des campagnes nationales de déparasitage.
7) Les campagnes locales de déparasitage.
8) L'accroissement du traitement.
9) Les interventions de santé publique complémentaires.
10) La recherche opérationnelle et les études d'impact.
11) Les réunions d'évaluation.
12) Les réunions statutaires.
13) Les conférences internationales.
14) Les facteurs de transmission.
15) Les enjeux, défis et leçons.
16) Les conclusions et recommandations.
17) L'Annexe.

Download the report here/Téléchargez le rapport ici : http://ttp.cm/download/68/