Workshop on 'Challenges for Women's Health in sub-Saharan Africa'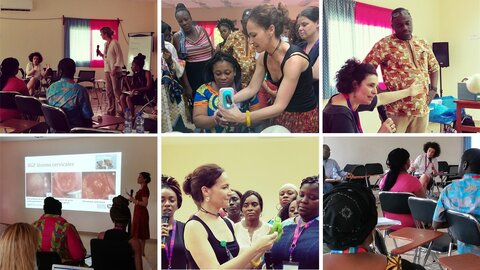 A two- and half day workshop on developing capacity for an integrated and comprehensive health care approach for women's health, took place in Lambarene, Gabon on the 21st - 24th of January. The workshop, organised by the HelmVit consortium between German and Gabon, brought together 20 experts and healthcare providers (including midwives and nurses) from Africa (Gabon, Mozambique and Cameroon) and Europe (Germany, Switzerland and United Kingdom). Local and state representatives from Gabon and the Merck Global Health Institute also took part.
The objectives of the workshop were to:
Explore the level of knowledge among health care providers and assess the care systems in place for combating the local burden of NTD like Female Genital Schistosomiasis (FGS) and NCDs like cervical cancer.
Exchange comparative experiences and good practices for caesarean section in the sub-Saharan African (SSA) setting, with knowledge-sharing and practical teaching modules.
Identify opportunities for scientific and operational collaboration between Germany and Gabon to increase the knowledge base about what works to enhance health systems for women's health.
You can find download the report below
Female Genital Schistosomiasis