SCIF blog | FGS prevention in Côte d'Ivoire
Research pilot to effectively and sustainably integrate FGS preventive treatment into the national health system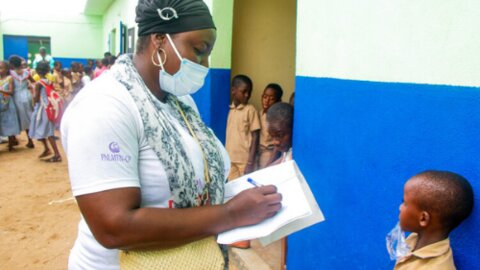 Despite the severe impact of this condition, awareness of FGS amongst the medical profession remains low because it is not usually included in medical textbooks or training programmes. As a result, FGS is often misdiagnosed as a sexually transmitted infection. In addition, low awareness amongst the population in general means that women affected are stigmatised.
Addressing the unmet need
In some areas of Côte d'Ivoire, even though the risk of FGS infection remains high*, preventive services are not routinely available to women.
This pilot study is taking place in seven health centres in Soubré district and aims to incorporate preventive treatment for FGS into the national health system. This strategy would ensure that women attending routine services for HIV/AIDS and female reproductive health, who are aged between 15 to 29 years old, are routinely offered FGS preventive treatment.
The study looks to improve preventive treatment coverage in this at-risk group and to find the best approach for integration; this involves training the health workers to offer preventive treatment and to raise awareness of FGS prevention during routine consultations.
FGS pilot integration study programme objectives
Determine the processes and resources
Reach at-risk women (15-29 years old)
Enhance awareness of FGS amongst health workers
Enhance awareness of FGS amongst at-risk women
Female Genital Schistosomiasis schisto FIG