SCI Foundation is now Unlimit Health

Unlimit Health was first established two decades ago as the Schistosomiasis Control Initiative within Imperial College London. At that time, this name very much reflected what they did. But things have changed, both in the disease control space from control to elimination; and in global health more generally, from programme-driven aid to health systems strengthening. Under the name SCI Foundation they became an independent organisation, supporting the delivery of one billion treatments against parasitic infections, a milestone reached on their 20th anniversary in 2021.
Having been set up as a disease-control initiative focused on very specific interventions, their strategy took a more comprehensive approach and incorporated broader primary prevention and care elements alongside the mainstay of mass treatment of parasitic infections. Now they have further modified their processes and ways of working to truly transform and challenge the remaining barriers to health systems resilience, country ownership and health equity. Because the how of what they do matters just as much as the what.
"Deciding a new strategic direction for an organisation is a daunting task. But it's also an exciting opportunity to step back and take a wider view, not only on what we're doing, but why we do what we do. It's an opportunity to 'zoom out' of our daily focus on our nearest tasks and goals, so that we can see important opportunities to make a more lasting impact. Unlimit Health is very pleased to continue to be part of the GSA and support the excellent work of this important partnership."
Dr Wendy Harrison

CEO, Unlimit Health
Health without limits, for all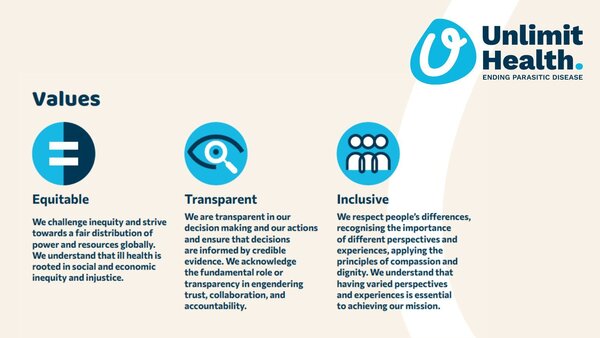 Their work, and that of the broader NTD community, can, and must also be directed to support the broader agenda of health equity and health systems resilience by being responsive to the requirements of our Ministry of Health clients who ultimately have the responsibility for the health of their citizens not only their NTD status.
This new why of health without limits for all is at the core of their new name: Unlimit Health.
Alongside their new name, they also launched an ambitious five-year strategy that sets out a new direction for improving health equity through tackling parasitic disease. This new strategy will have at its core the ambition to end preventable parasitic infections and to improve health equity, and ultimately to contribute to resilient systems that sustain good health, so everyone everywhere can reach their full potential.
Instead of viewing interventions as the starting point, Unlimit Health will be responsive to the requirements of their endemic country colleagues to support local health systems that deliver programmes according to their own context.
Unlimit Health's new approach will require not only engaging new funders, but also supporting their country partners to mobilise their own resources. This will be a completely different way of working, but they believe it is essential to support the change they want to see.