Schistosomiasis Research Grant
FAST FUNDING FOR SCIENTISTS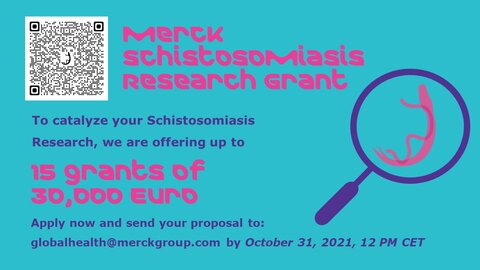 Merck is dedicated to accelerating innovation and advancing science for most neglected populations. That's why they want to catalyze research in an open innovation spirit as well as reduce the financial hurdles. They are inviting pre-clinical researchers in the field of schistosomiasis to apply to their fast funding program: the Merck Schistosomiasis Research Grant Initiative. Up to 15 grants of €30,000 per project are available.
WHO CAN APPLY AND DEADLINE?
Pre-clinical researchers in the field of schistosomiasis are invited to apply by October 31, 2021 by 12 PM CET. Funding is available for pre-clinical research only, and priority will be given to applications from endemic and/or low- and middle-income countries.
Healthcare professionals may not be funded by this initiative for formal and legal reasons.
Please send an Globalhealth [at] merckgroup [dot] com (subject: Schistosomiasis%20Research%20Grant) (email here) to receive the relevant documents to apply for the Schistosomiasis Research Grant Initiative.
HOW DOES IT WORK?
All information submitted in the application is considered non-confidential. Please ensure you have permission to disclose any information you share on the application form.
Applicants will keep all rights to results and the respective IP.
Merck will accept or decline applications at its own discretion.
YOUR BENEFITS
If your application is approved by the Merck committee, you can benefit from financial support in the form of a grant of €30,000 per project. They want to accelerate your project's potential. That's why grant funding will be made available within weeks of them receiving your application if your project receives a positive decision.
Announcement will be made on November 10, 2021.
Research Monitoring and Evaluation Behaviour change Snail WASH