Remembering Dr Mwele Ntuli Malecela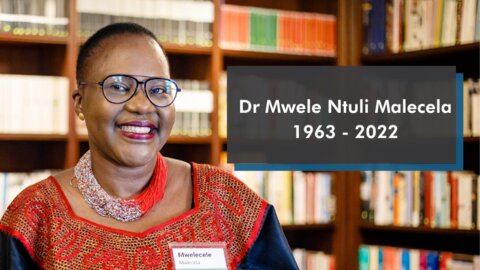 We are extremely saddened to learn of the passing of Dr Mwele Ntuli Malecela on 10th February, our inspirational and highly motivated NTD leader who did so much for those in need. The Global Schistosomiasis Alliance would like to extend our deepest condolences to Mwele's family, friends, and colleagues.
Dr Malecela transformed the way we work together to beat NTDs, dedicated to collaboration, equity, and representation. Her generosity of spirit and humanity has shown through everything she did, from supporting students and early career scientists, to her unmovable stance on health equity and her fearless leadership of the WHO department for the Control of Neglected Tropical Diseases.
Dr Malecela was a leading scientist and a proud Tanzanian, committed to public service and using her skills to improve the lives of all. An inspirational role model for women and girls in science, she was a motivating leader for all in global health.
Thank you, Dr Mwele, for your impactful leadership and compassion. We will miss you. We will remember and honour you by increasing our efforts to serve communities affected by NTDs, to improve the health and wellbeing of all.