March To Kigali | En Marche Vers Kigali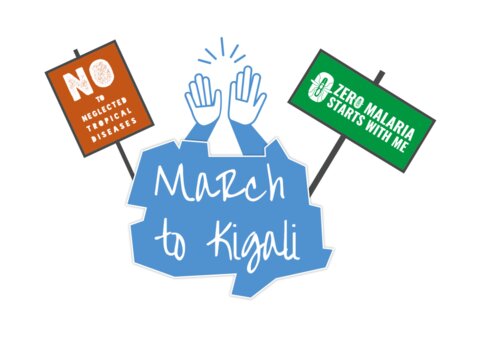 Ahead of the Commonwealth Heads of Government (CHOGM) Summit in Kigali, Rwanda, in June 2021, the Rwandan government is organizing the Kigali Summit on NTDs and Malaria, providing an opportunity to garner global attention and accelerate action to end these diseases.

This is why Speak Up Africa is proud to announce that a group of like-minded CSOs from west and central Africa are launching the 'March to Kigali' campaign to galvanize a movement through political, private sector and civil society engagement ahead of this Summit.

The campaign builds on existing partnerships and platforms of the "No to NTDs" and "Zero Malaria Starts with Me" campaigns and aims to secure the commitments needed to end these epidemics by 2030, as per the Sustainable Development Goals (SDGs).
---
En prélude de la réunion des chefs de gouvernement du Commonwealth (CHOGM) qui se tiendra à Kigali, au Rwanda, en juin 2021, le gouvernement rwandais organise le Sommet de Kigali sur les MTN et le paludisme, qui sera l'occasion d'attirer l'attention du monde entier sur ces maladies évitables et d'accélérer les actions visant à leur élimination.

C'est pourquoi Speak Up Africa est fiers d'annoncer qu'un groupe d'organisations de la société civile œuvrant dans des pays d'Afrique de l'Ouest et d'Afrique centrale lance la campagne « En marche vers Kigali », qui vise à galvaniser un mouvement par le biais d'un engagement des décideurs, du secteur privé et de la société civile en amont de ce sommet.

La campagne s'appuie sur les partenariats et les plateformes existants des campagnes « Non aux MTN » et « Zéro palu ! Je m'engage » et vise à obtenir les engagements nécessaires pour mettre fin à ces épidémies d'ici 2030, conformément aux objectifs de développement durable (ODD).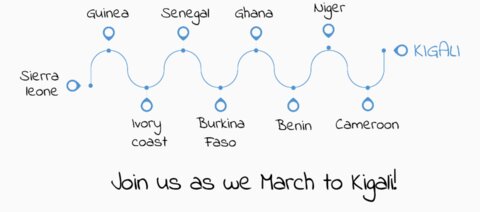 Throughout this campaign, Speak Up Africa will be virtually marching through West and Central African countries, highlighting the incredible work that is being done.
Join the campaign and contribute to protect African populations from NTDs and malaria as we head towards the Kigali Summit, a pivotal moment in the fight against these diseases.
Speak Up Africa will be sharing a social media toolkit and more information about the various activities in the coming weeks. If you have any questions about the campaign or would like to work with Speak Up Africa, info [at] speakupafrica [dot] org (please do get in touch). They would love to hear from you.
---
Tout au long de cette campagne, Speak Up Africa marcherons virtuellement à travers des pays d'Afrique de l'Ouest et d'Afrique centrale, en mettant en lumière le travail incroyable qui est réalisé.
Rejoignez la campagne et contribuez à protéger les populations africaines des Maladies Tropicales Négligées et du paludisme alors que nous nous dirigeons vers le sommet de Kigali, un moment clé, dans la lutte contre ces maladies.
Speak Up Africa partagerons une boîte à outils pour les médias sociaux et plus d'informations sur les différentes activités dans les semaines à venir. Si vous avez des questions sur la campagne ou si vous souhaitez travailler avec Speak Up Africa, info [at] speakupafrica [dot] org (n'hésitez pas à les contacter.) Ils serons ravis de vous entendre.