Global health partners collaborate to accelerate development of a new schistosomiasis test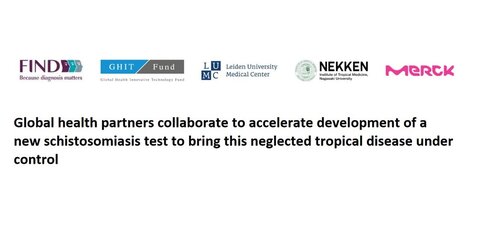 The Foundation for Innovative New Diagnostics (FIND), the Global Health Innovative Technology (GHIT) Fund, the Nagasaki University Institute of Tropical Medicine (NUITM), and Leiden University Medical Center (LUMC) announced today a collaboration in partnership with Merck (Merck KGaA) to develop a rapid diagnostic test (RDT) for schistosomiasis, supported by an investment of US$3.5 million from the GHIT Fund. This new collaboration will build on the prototype successfully completed by FIND, Mologic Ltd (Thurleigh, UK), LUMC and Merck, and will accelerate the development and validation of an innovative RDT for Asian and African schistosomiasis. This RDT will enable monitoring of treatment campaigns as well as programmatic monitoring and evaluation surveys.
Schistosomiasis is a neglected tropical disease affecting more than 220 million people. Caused by infection with parasitic worms due to contact with parasite-infested water, the disease devastates whole communities, leading to organ damage, chronic ill health, and ultimately death, if left untreated. With more than 90% of cases in Africa, it is estimated that a further 700 million people could be at risk of infection.
Current field testing for schistosomiasis relies on microscopic examination of stool or urine samples to detect parasite eggs. This practice is time-consuming, and the detection of eggs in the samples can be difficult in patients with moderate-to-low infection levels. To account for this, sampling must typically be repeated over multiple days by trained microscopists, making it costly and challenging to deploy. Furthermore, inaccurate diagnosis can lead to treatment being stopped early and to recurrence of infection to original levels soon after.
The RDT being developed by the collaborating partners will be based on a finger prick test to detect circulating levels of an antigen (CAA) that is secreted continuously by living schistosomes from various species. It has been shown to have sensitivity that is comparable with repeated microscopy, but without the drawbacks of complex sample preparation, specialist expertise in microscopy and the need for repeat testing.
The test is urgently needed to guide targeted deployment of medicines to the individuals and areas where they can have the greatest impact. The test is subject to global access terms to ensure that it will be affordable and accessible in communities within endemic countries. It represents a critical asset towards reducing the global public health and economic burden caused by schistosomiasis while paving the way to reach disease elimination by 2030.
Catherine Ohura, CEO and Executive Director of GHIT, said: "Schistosomiasis affects hundreds of millions of people, and lack of diagnostic innovation is preventing treatment from reaching those who need it. We are pleased to support this collaboration to accelerate the development of urgently needed tests that will help to achieve sustainable control of the disease, and allow progress towards its elimination."
Cornelis Hokke, Research Professor at the Department of Parasitology of LUMC said: "LUMC and its collaborators have worked on schistosome glycan antigens and diagnostic assays for endemic settings for more than two decades. We are excited that this work and the antibodies that we have developed now feed into a schistosomiasis RDT that will have a strong impact on global schistosomiasis control and elimination goals. This has always been among the main goals of our research."
Kenji Hirayama, Head of Secretariat at Japan Alliance on Global Neglected Tropical Diseases (JAGNTD), said: "Schistosomiasis has spread to Africa, South America, China and Southeast Asia, and although mass drug administration with praziquantel is in place, there is still a long way to go before it is eliminated. The project is significant in reducing the time it takes to implement a comprehensive public health policy including transmission and morbidity control and surveillance. We are proud to have researchers from Japan, which was the first country in the world to declare an end of endemic schistosomiasis in 1996, participating in this project."
Béatrice Gréco, Head of R&D and Access at Merck Global Health Institute said: "Merck remains committed to fight schistosomiasis until its elimination. To achieve this goal, it requires delivering integrated health solutions, including drugs and diagnostics to the communities in need. This international collaboration is an essential element of such a strategy as it addresses the major gap of providing an accessible diagnostic tool to health systems in endemic countries."
Joseph Ndung'u, Head of FIND Kenya and lead of the Neglected Tropical Diseases programme at FIND, said: "New technology is urgently needed to get testing out of the laboratory and into the community, so that we can ensure targeted use of the effective treatments we have available today. Effective, accessible RDTs are vital not just for patient care, but also for essential surveillance and disease tracking that can accelerate progress towards the 2030 elimination goals."
The new test is being developed in collaboration with Mologic Ltd. The project is expected to complete by the end of 2022.
Research Monitoring and Evaluation