Delegates from China attend GSA training programme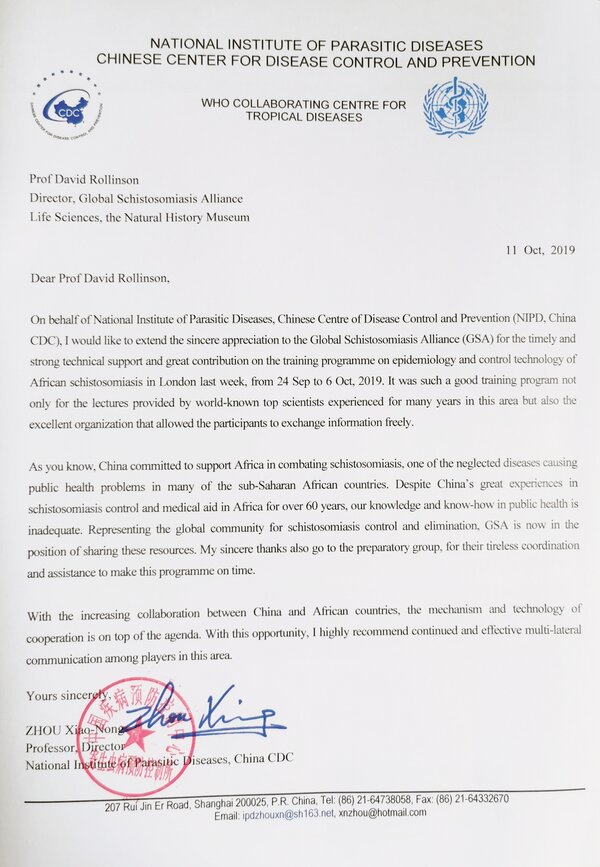 A training programme using the extensive expertise of GSA partners, members and observers was created by the GSA to train delegates from China on the epidemiology and control technology of African schistosomiasis.
The National Institute for Parasitic Diseases, CDC China, sent 9 delegates from NIPD and other institutes to attend this training programme and learn about African schistosomiasis. The delegates, NIPD and the GSA exectuive team are all hugely grateful to all the presenters and speakers who took time out of their busy schedules to share their work and train the delegates in the latest tools, research and knowledge of the epdimiology and control of schistosomiasis in Africa.
"It was such a good training program not only for the lectures provided by world-known top scientists expereinces for many years in this area but also the excellent organization that allowed the particpants to exchange information freely" said Prof. Zhou, director of the NIPD, CDC China.

"With the increasing collaboration between China and Africa, the mechanism and technology of cooperation is on top of the agenda. With this opportunity, I highly recommend continueds and efffective multi-lateral communication among players in this ares"
The material presented during this programme is shared here.
We are also grateful to our partners at Natural History Museum for hosting the meeting, particularly the SCAN (Schistosomiasis Collection at the NHM) team.
GSA