2023 NTD Innovation Prize winner | Citizen science for mapping snail-borne diseases
During the closing plenary of the NTD NGO Network conference, September 2023, the American Leprosy Missions awarded its fifth annual NTD Innovation Prize of $40,000 to ATRAP (Action Towards Reducing Aquatic snail-borne Parasitic diseases) a citizen-science initiative to combat schistosomiasis and other snail-borne diseases.
In 2023 the NTD Innovation Prize competition, presented by the Americal Leprsy Missions in partnership with NNN and Novartis, invited proposals that leverage mapping and spatial analysis to target NTD interventions. Over recent years, interest has grown in tools or processes that utilize geographic information systems (GIS), mapping, and spatial analysis to support NTD targets. This is seen in the WHO Road Map for NTDs 2012-2030, calling for standardized mapping to show a detailed view of disease epidemiology and progression, new approaches to mapping integration, and compatibility. For the Prize, mapping is defined as the use of GIS to create, manage, visualize, and analyze various types of data, including, but not limited to, spatial.
Winner | Citizen science for mapping snail-borne diseases: a community-based approach to revolutionize snail control in Uganda and DR Congo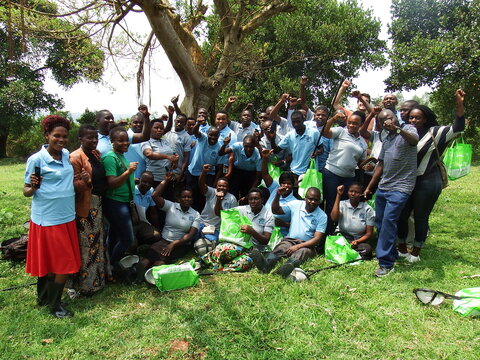 Proposal
Snail-borne diseases such as schistosomiasis and fasciolosis pose a significant public and veterinary health burden, particularly in Africa. Since drug treatment alone does not suffice to control these diseases, the World Health Organization recommends including snail control and community involvement. However, the lack of snail experts and snail distribution data hampers the design and implementation of targeted control measures. Moreover, snail control will simultaneously tackle animal diseases transmitted by the same or related snail species, aligning with the One Health approach.
To tackle these challenges, the winning project proposed a groundbreaking approach using citizen science (CS) to bridge this gap by involving community members in snail monitoring. Two CS networks in Uganda and the Democratic Republic of Congo have collected weekly snail data and information on water-related activities at 76 fixed-water contact sites between 2020-2023. This data will be used to identify potential transmission sites. However, to identify actual transmission sites, the research team now want to combine field-friendly environmental (e)DNA sampling with loop-mediated isothermal amplification (LAMP) to measure parasite transmission in real-time (eLAMP)
In the Action Towards Reducing Aquatic snail-borne Parasitic diseases (ATRAP) initiative, the research team developed a robust validation protocol to ensure accurate spatial and temporal mapping. The team showed through advanced comparative analyses that CS-collected and expert data substantially agree regarding the presence or absence of snails at a given site (Tumusiime et al, submitted). In addition, the CS model is about eight times cheaper than the conventional expert monitoring. Now they want to use snail and eLAMP data to develop advanced distribution models that predict the presence of snails/parasites based on environmental conditions obtained from novel remote sensing products and state-of-the art COSMO-CLM simulations. The raw data will be used to generate real-time risk maps, while fine-scaled spatio-temporal modelling will provide future forecasting of snail/parasite presence considering extreme hydrological events and long-term environmental fluctuations driven by climate change.
The project aims to create an open-access platform to maximize data accessibility. This citizen science approach has been shown to generate unprecedented snail datasets regarding spatiotemporal resolution and coverage. Incorporating eLAMP has the potential to turn it into a powerful early warning system for disease risk. The ATRAP research team earlier work has shown that citizen participation empowers communities and increases knowledge of snail-borne diseases and their control and prevention. They therefore argue that this community-based approach presents a highly innovative and sustainable addition to classical surveillance programs, or even a replacement in remote areas. Finally, this project has a huge potential for upscaling to other regions in Africa and beyond.
Read the press release from the American Leprosy Missions
American Leprosy Missions Awards Fifth NTD Innovation Prize
Read more about the project
ATRAP- Action Towards Reducing Aquatic snail-borne Parasitic diseases
Lead contributors
Dr Tine Huyse - Royal Museum for Central Africa, Belgium
Dr Joule Madinga - INRB, DRCongo
Dr Casim Umba Tolo - Mbarara University for Science and Technology, Uganda
ATRAP UGANDA
CITIZEN SCIENTISTS: Mr. Gard Barisigara, Mr. Henry Tusingwire, Ms. Specioza Natabi, Ms. Rose Nakingi, Mr. Bamuturaki Charles, Mr. Josias Kamukama, Mr. Emmanuel Nuwagaba, Mr. Julius Tweheyo, Mr. Cruzestom Bahungirehe, Mr. Hassan Alinda, Mr. Friday Chotum, Mr. Marisel Atanasi, Ms. Unimu Hadijah, Mr. Isingoma Opio, Mr. Augustine Ategeka, Mr. Bob Bahemuka, Mr. Haruna Masereka, Mr. Fobious Sebakara, Ms. Imelda Nyamahunge, Mr. Zabron Businge, Ms. Janet Tumusiime, Mr. David Nsenga, Ms. Marygoret Night, Ms. Noeline Kyaligonza, Mr. Robert Mwesige, Mr. Timothy Kisoro
PROJECT PARTNERS: Prof. Grace Kagoro, Dr. Lies Jacobs, Dr. Viola Nilah Nyakato, Prof. Anton Van Rompaey, Dr. Ronald Twongyirwe, Dr. Caroline Michellier, Dr. Olivier Dewitte, Dr. François Kervyn, Dr. Caroline Masquiller,
Prof. Karolien Poels
PhD STUDENTS: Mr. Julius Tumusiime, Mr. Maxson Kenneth Anyolitho, Ms. Mercy Gloria Ashepet, Ms. Noelia Valderrama Bhraunxs
MSc STUDENTS: Ms. Daisy Namirembe, Ms. Faith Mugabi
PROJECT ASSISTANTS: Mr. Ben Lukubye, Ms. Daisy Namirembe
ATRAP CONGO
CIITIZEN SCIENTISTS: Diatuka Dinayame, Dikizeyiko Paul, Kavungu Zolandonga, Kinsengwa Lukwikilu, Lufuma Luakanda, Luntadila Dayina, Lusevakueno N'sanda, Luvuma Suamina, Luyeye Pierre, Luzolo Adelphine, Mabanza N'landu, Mansweki Makuntima, Mantantu Muanga, Mena Ntonzi, Mfumu Nani Jose, Ndongala Gracia, Nginamau Luvevela, Nkumbu Ngina, N'landu Tazi, Nsilulu Zanzambi, Nsimba Mbiyavanga, Nzinga Emmanuel, Vantour Kinuani, Zoladio Sienge
PROJECT PARTNERS: Prof Patrick Mitashi, Prof Bruno Lapika, Dalton Bakadila, Esther Miezi, Placide Mbala, Prof Katrien Pype, Prof Lino Pungi
PhD STUDENTS: Germain Kapour and Jean Bitumba
MSc STUDENTS: Ma vie Misinga Milayi, Chantal Mokoko, Jailina Mulmi, Cecilia Wangari Wambui
PROJECT ASSISTANT: Théo Emboni
About the NTD Innovation Prize
The NTD Innovation Prize is designed to encourage and support creativity and ingenuity within the NTD space and to fund new ideas that could result in cost-effective, scalable and transformative positive impact.
American Leprosy Missions is interested in ideas that apply a new approach, tool or method to a persistent challenge. Ideas are considered innovative if they disrupt the status quo, offering a feasible and adoptable solution to a problem in a way that avoids duplication, redundancy or inefficiencies. Each year they invote proposals from teams that then can turn ideas into action and impact.