The Power of Storytelling: Global Youth Arts Festival
1-8 Apr 2021
Online / virtual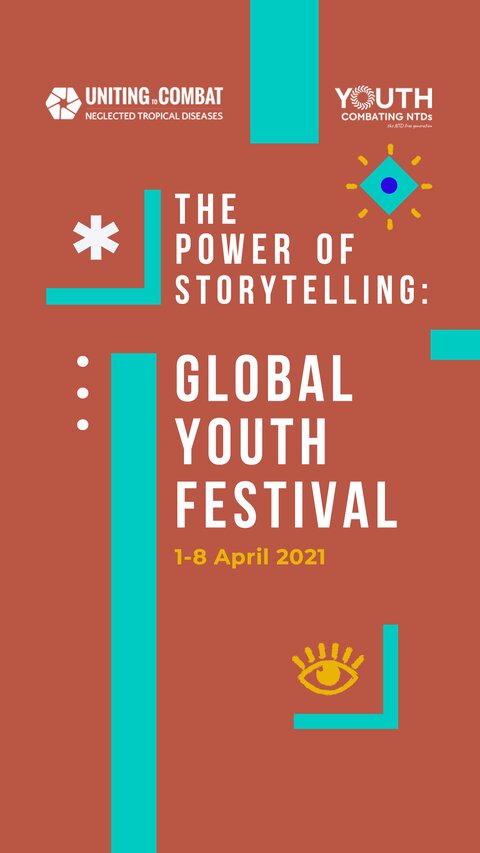 Stories help us connect with our culture, our history and our identities. Stories are passed along from generation to generation; from country to country; and from family to family.
Stories help define who we are and what we stand for. Stories are told in a number of ways, through words, song, video, photography, and more. Simply put, storytelling is – whatever the medium – a true artform. Recognising the value of storytelling, Uniting to Combat NTDs in partnership with Youth Combating NTDs and with support from the Crown Prince Court of Abu Dhabi - launched a Youth Storytelling Competition in 2020. We are delighted to be bringing to you a virtual art gallery of NTD storytelling that will be opened and celebrated through a week-long global youth-story-telling festival.
Prepare to be dazzled!
Please see more information and profiles of artists and jurors here
The festival will open on the 1st of April and will see the launch of the first ever virtual art gallery for neglected tropical diseases.
The launch will be on Instagram Live on Meena Ally's feed @meen_ally at the following times:
Thursday 01 April 2021
New York EDT 10:00
London / Nigeria WAT BST 15:00
Dar es Salaam EAT 17:00
India IST 19:30
Philippines PHST 22:00
For more information on the week-long festival and how to watch it live, register now