International Conference on Family Planning - FGS sessions
14-17 Nov 2022
Thailand & virtual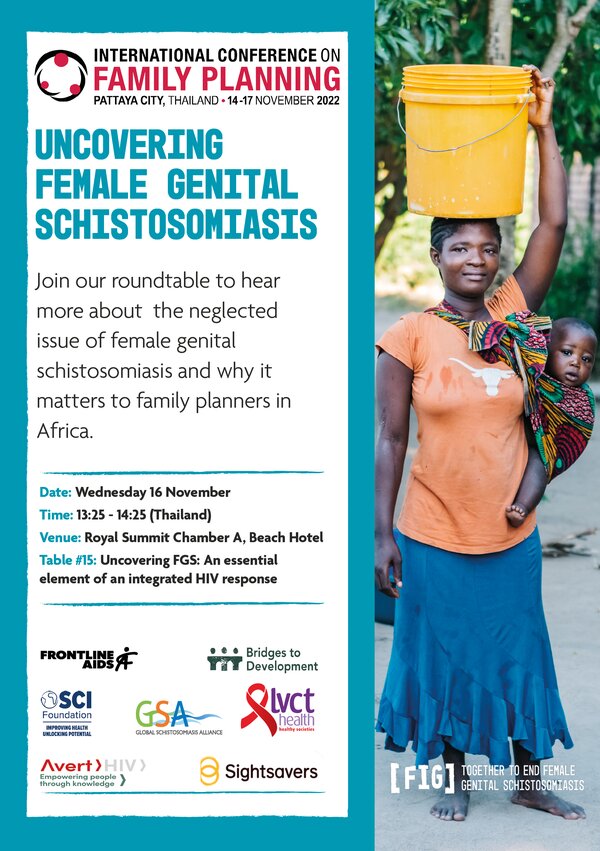 The International Conference on Family Planning has convened the global development community around a shared vision of universal access to family planning since 2009.
A network of advocates, researchers and scientists, community and government leaders, health practitioners, economists, conveners, civil society members, and young people.
We are joined by the belief that everyone deserves access to family planning services and products, no matter what.
In 2022, we are delighted to see our colleagues from Frontline AIDS & the FGS Integration Group (FIG) bringing Female Genital Schistosomiasis to the Family Planning and Sexual and Reproductive Health and Rights discussion.
16 Nov 13:25-14:25|Subcommittee Roundtables
Uncovering Female Genital Schistosomiasis
16 Nov 17:00-18:00|side event
The Prevention Evolution - Championing integrated approaches for marginalised women and girls
Register now to attend online, or join the ICFP Live on-demand broadcast.
Female Genital Schistosomiasis