DNDi webinar | Medicines for the People: what will the next decade look like?
30 Mar 2021 15:30 GMT
Online / virtual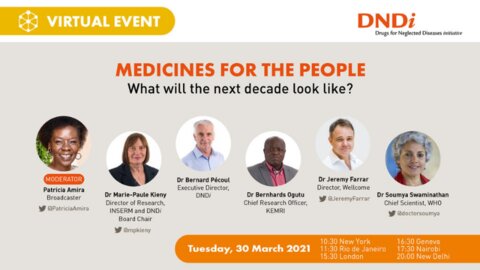 As DNDi launches a new Strategic Plan, charting a journey to deliver 25 treatments in our first 25 years, we know we must brace ourselves for a decade of ever-increasing and changing needs. What will the next decade look like?

Join this panel of experts to reflect on the challenges and drivers of change looming ahead.

Featuring:
Dr Marie-Paule Kieny, Director of Research, INSERM and DNDi Board Chair
Dr Bernard Pécoul, Executive Director, DNDi
Dr Bernhards Ogutu, Chief Research Officer, KEMRI
Dr Jeremy Farrar, Director, Wellcome
Dr Soumya Swaminathan, Chief Scientist, WHO

Moderator: Patricia Amira, Broadcaster

Translations in French & Spanish.

By registering for this event you agree to DNDi's privacy policy (dndi.org/privacy). DNDi will collect, process, and transfer your personal data for statistics on events and to inform you about our activities in future.
Spanish & French translation
Mientras DNDi pone en marcha un nuevo Plan Estratégico, trazando un camino para entregar 25 tratamientos en los primeros 25 años, sabemos que debemos prepararnos para una década de necesidades crecientes y cambiantes. ¿Cómo será la próxima década? Únete a nosotros para reflexionar sobre los desafíos y los motores de cambio que se avecinan.

Al registrarte en este evento, aceptas la política de privacidad de DNDi (dndi.org/privacy). DNDi recogerá, procesará y transferirá tus datos personales para las estadísticas de los eventos y para informarle sobre nuestras actividades.

***
Alors que DNDi dévoile son nouveau plan stratégique, qui se donne pour objectif de développer 25 traitements en 25 années d'existence, nous devons nous préparer à une décennie de besoins toujours accrus et en constante évolution. De quoi sera faite la prochaine décennie ?

En vous inscrivant à cet événement, vous acceptez la politique de confidentialité de DNDi (dndi.org/privacy). DNDi collectera, traitera et transférera vos données personnelles à des fins statistiques et pour vous informer de nos prochaines activités.