Sightsavers blog: World Water Week 2020: Bringing WASH and NTD sectors together will improve millions of lives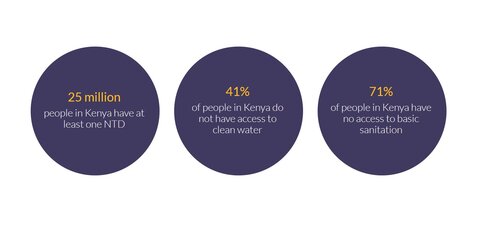 This World Water Week, a new report on neglected tropical diseases (NTDs) shows that building partnerships and integrating data between sectors will accelerate progress towards elimination of targeted diseases.
Sightsavers' technical manager in Kenya, Samuel Eshitemi Omukuba; and the Kenya ministry of health's Dr Sultani Hadley Matendechero, believe that a strong partnership between WASH and NTD implementers will bring significant benefits across both sectors.
Neglected Tropical Diseases (NTDs) like trachoma, river blindness, lymphatic filariasis, intestinal worms and schistosomiasis are diseases of public health importance in many countries across Africa, Asia and the Americas. However, many of them are preventable through improving access to safe water, basic sanitation and hygiene (WASH).
In Kenya, NTDs are a major cause of suffering, illness and disability. According to the government's current NTD strategy, approximately 25 million Kenyans are at risk of having at least one NTD.
In order to control and eliminate NTDs as a public health problem in Kenya, the ministry of health, in partnership with Sightsavers and other non-governmental organisations (NGOs), carry out regular mass drug administration activities within qualifying affected regions. These target all eligible community members with safe and effective medicines to break the transmission of disease.
But this is not enough. Community transmission of NTDs can be reduced by WASH interventions, which include providing access to safe water and making basic sanitation facilities, like latrines, available. Equally important is the need for widespread behaviour change such as ending open defecation and improving personal hygiene. In fact, studies have shown that WASH interventions can contribute to reducing trachoma by up to 27 per cent, and schistosomiasis by as much as a staggering 77 per cent.
In Kenya, a good number of NGOs, private sector companies and ministries either have the potential to contribute, or are already contributing to, NTD control and elimination efforts yet they either knowingly or unknowingly work in silos. There is a big opportunity to eliminate NTDs as a major public health problem through proactively promoting and enabling positive collaboration among these organisations, which is what we are seeking to do this World Water Week.
"WASH can contribute to reducing trachoma by up to 27%, and schistosomiasis by as much as 77 per cent."
Our report: Kenya's 'landscape analysis'
Sightsavers supported the ministry of health to develop a 'landscape analysis' of the state of NTDs and WASH in Kenya. The report was presented to key stakeholders, including ministry officials, funding and implementing partner agencies, and civil society.
This analysis presents the structure of both sectors, interventions carried out, key data in both areas and areas where integrated approaches are bound to have the most impact on efforts to control and eliminate targeted NTDs.
This World Water Week, our two key recommendations for stakeholders in the WASH and NTD sectors are:
Develop an integrated platform for WASH and NTD data to inform decision making. At the moment this data is either stored in different places, or missing completely. The process of pulling datasets together is complex and time-consuming, and hence big data is not sufficiently leveraged to make informed decisions by both sectors. An integrated platform will allow stakeholders to compare NTD prevalence and WASH coverage effectively. This data will be used to better inform on where improved WASH infrastructure can be best deployed, as well as where behaviour change activities can be best implemented for maximum impact.
Integrate WASH and NTDs interventions through strategic collaboration. Set up and maintain national and county-level forums for WASH and NTD stakeholders to help open up opportunities for strategic collaborations. The overall aim of these forums is to conduct advocacy, provide advisory support to the counties, and to monitor performance of WASH and NTD interventions against the set national and county goals.
The NTD sector and the World Health Organization already recognise WASH as critical to eliminating NTDs. It's time for both sectors in Kenya to embrace a proactive push toward eliminating NTDs in stronger partnership – and it starts now, at World Water Week 2020.
WASH